We can all appreciate the advantages of working from a laptop. You can stay productive whether you are in your home office, coffee shop, beachside, or even on your bed. However, it isn't a great ergonomics choice as you can't adjust the height of the screen and keyboard separately. Without an adjustable laptop stand, it's easy to hurt your back, shoulders, and wrists.
The best way to enhance the laptop's ergonomics is to use an adjustable laptop stand. You can lower or raise the height and maintain the perfect best posture. Besides, most laptop stands are versatile, and depending on your choice, you can use them anywhere.
This article takes you through the best adjustable laptop stands to enhance your work day. Read on!
Best Wooden Adjustable Laptop Stands
Wooden laptop stands are made from a natural materials. Often, they look more intuitive and attractive. Wooden items are somehow timeless and complement modern devices.
iWoodstar Adjustable Wooden Laptop Stand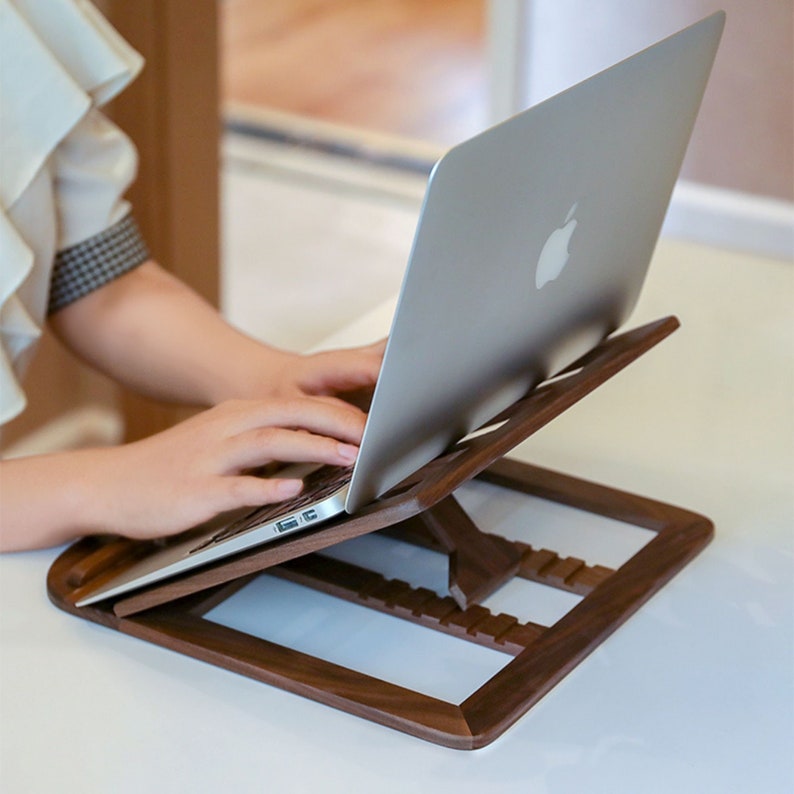 Handcrafted with high-end precision, this stand provides support for all laptops up to 16". The wooded material makes it unique and aesthetically pleasing.
The iWoodstar Adjustable Laptop Stand is available in pine, oak, walnut, or beech wood options. The natural wood patterns vary greatly, adding authenticity and uniqueness. On top of that, its minimalist design adds style and functionality to your workspace.
While it's more suited for Apple MacBook Pro and Air, you can use it with any laptop you want. If you want to elevate your laptop for more comfort or just to de-clutter the workspace, this stand is a great choice.
ErgoTree Wooden Laptop Stand
The ErgoTree Wooden Laptop Stand raises your computer to the perfect level so you can work in comfort. It enhances comfort, so you don't have to worry about neck and back pains.
To ensure users get the best only, this design was patented. Its bamboo wood is handcrafted and designed in Oregon and has unmatched beauty and functionality.
With this stand, you can work, study, and perform all laptop activities seamlessly. It's a great option if you spend numerous hours on your laptop every day. You can take it wherever you want as it is foldable and lightweight.
ThatFromHome's Multipurpose Wooden Laptop Stand
You can twist this stand either to use with both a laptop and an iPad. When in the usual state, it acts as a laptop holder. Twisting a little bit provides good space for storing an iPad. Made from Bamboo wood, this multipurpose laptop stand from ThatFromHome holds 11- 13" laptops.
The stand's firmly structured layout brings it about stable positioning and can be used for demanding activities such as gaming. When not in use, you can disassemble and carry easily. The process of reassembling this stand is quite simple as well. A cable management feature helps keep your home office well-organized.
MTWhirldy Universal Laptop Stand
Compatible with 11-14" laptops, this adjustable laptop stand is extremely beautiful. It blends well in the workspace, adding functionality, style, and better performance.
The MTWhirldy universal stand raised impeccably enough to enhance airflow to prevent your laptop from overheating. It raises your laptop 5.5" off, releasing your vision and allowing better operation. If you have problems with neck ache, it offers great relief.
The smooth handcrafted design is minimalist, lightweight, and steady for smooth operation. All wooden parts are perfectly enjoined together, making it sturdier and more durable.
Stylose Bamboo Laptop Stand
Made from natural bamboo, this Stylose laptop stand combines natural materials with enhanced vision and reduced strain to deliver style in your workspace. It's convenient for the library, office, and home use.
With this stand, you can set 5 different angles so you can use your laptop without straining too much. The lightweight foldable design means you can take this stand anywhere you want. Besides, it perfectly fits in mid to large-sized backpacks.
Best Laptop Stands for MacBook
If you specifically use MacBook laptops alone, there are numerous custom laptop stands in the market. They are designed to offer MacBook users a great deal of comfort and style. They are aesthetically appealing, and with them, laptop usage won't be tiresome anymore.
ThatFromeHome's Ergonomic Laptop Stand provides a great choice for MacBook users. It has a precise design and is compatible with MacBook laptops ranging from 11-15.6".
This adjustable laptop stand features a well-curved aluminum finishing that resembles the MacBook shape. Behind it is a cable management ring, so you don't have problems when plugging your charger or other accessories.
The inclined surface has anti-skid silicone padding on the corners that prevent the laptop from slipping. The padding ensures the bracket is flexible while protecting your laptop from scratches.
Steklo X-Stand
This is one of the most versatile laptop stands you can find in the market. It improves vision by raising the laptop to the desired level. The sleek aluminum material is all you deserve for your MacBook. Ideally, Steklo X-Stand was designed for MacBook users who love to match their laptops with striking, beautiful accessories.
When not in use, you can fold this laptop stand and keep it in a bag. After all, it weighs only 6 ounces, and when folded, it's 6 inches long.
With this stand, you will keep your MacBook cool even after heavy use. Its design allows air to move freely, preventing unwanted overheating and crashes. The metallic silver finishing is stylish and brings some flair to your workspace.
Urmust Laptop Stand Holder
If your need to raise your MacBook to more ergonomic heights, this stand comes in handy. You can raise it to fine levels of between 0-90 degrees. It features sleek aluminum, sturdy inches, and a phone storage compartment on the base.
For maximum stability, the Urmust Laptop Stand was fitted with anti-slip rubber on the feet to remain stable. Also, the rubber feet ensure there is minimal friction between the stand and the table. Plus. It's lightweight and easily foldable.
The stand's super-narrow design makes it easy to use in small spaces. It comes in several colors, so you can choose whichever fits your style. It's more suited for smaller laptops rather than large ones.
Best Foldable Laptop Stand
Having a laptop stand you can fold is a big plus. Foldable laptop stands can be carried everywhere as they don't occupy much space in your bag. Some of the top products include;
Flagtop Foldable Laptop Stand
Are you looking for a laptop stand that you easily fold and get going? This adjustable laptop stand is one of the most versatile you can get in the market. While it seems large with the laptop on the surface, it's fordable to a mere 9.4" x 1.75". You can carry it effortlessly, as it weighs a mere 240g.
The FlagTop Adjustable Laptop Stand comes with six adjustable heights to raise your laptop from 2.1" to 5.5". This ergonomic design gives users the correct postures to reduce pain in the spine, shoulders, and neck.
The entire component is made of aluminum which dissipates heat efficiently. For laptops not exceeding 15.6", this is a handy option.
iVoler 2 in 1 Laptop Riser Stand
The iVoler 2-in-1 laptop stand allows a fair adjustment of between 2-6 inches across six presets. All you need is to find a soft spot between these presets and keep working.
Its foldable design coupled with lightweight construction makes it more portable. Even if you don't have a backpack, you can fold and carry it by hand. When fully folded, its size goes below 10 inches long and a mere 1.7 inches wide, just like the usual size of a TV remote controller.
This X-shaped stand was made from tough aircraft-grade aluminum. This ensures it's lightweight but firm. The stand has rubber on the sides to prevent shaking and scratching while in use.
ThatFromHome's Folding Laptop Stand with Adjustable Angle
At ThatFromHome, you can find one of the most affordable and portable laptop stands. This stand is sturdy enough thanks to the triangular design, which improves load-bearing. The contact surface is made of silica gel which protects the computer by minimizing slip.
This stand is hyper-practical. It delivers a quick admission thanks to the seamless assembly process. All you need is to unfold and set up immediately. Unlike intricate stands, the ThatFromHome's Laptop Stand is simple and intuitive.
The multi-gear height adjustment allows for smooth lowering and rising. You can adjust the angle according to needs and preference. This stand is compatible with all laptop brands in the market.
Best Adjustable Laptop Stand for Bed
Using a laptop on the bed can be a nuisance. The weight of the laptop coupled with the heat generated tends to be a nightmare. To remedy this situation, why don't you pick an adjustable laptop stand for your bed?
Here are a few bed laptop stands to start with;
PWR Versatile Laptop Stand
The Pwr ergonomic stand provides limitless angles to fit any body position to deliver the ultimate bed comfort. With sturdy, fully adjustable legs, you can reshape it to any height you want.
This Pwr Versatile Laptop Stand was made from high-strength, lightweight aluminum to allow quick maneuver to and from the bed. It features two trays, the main one for the laptop and the side tray for the mouse. Also, it is completely ergonomic and can rotate 360 degrees and lock in place for ease of use. When you are done using it, it zigzags back to its fold for easy storage.
This laptop stand was designed for people who love to use it while in bed. It's multipurpose and can double as a book tray, breakfast table, or even a stand-up desk when fully stretched. To use this bed laptop stand, you only need to find the position that allows for optimum functionality.
Saiji Adjustable Laptop Tray
The Saiji Adjustable Laptop Stand has a variety of striking features that make it ideal for bed use. It was designed such that users can use it both in bed and on the worktop.
This stand comes with a detachable mouse and notebook slip for storage. It has 5 adjustable heights alongside adjustable clamps to give you the desired surface angle. The included compartments provide support for other items such as mobile phones and glasses.
Besides offering a practical experience, this stand is multipurpose. Other than providing laptop support in bed, it makes a great kid's bed table. Ideally, it provides balance for productivity and comfort.
Mind Reader 8-Position Laptop Stand
This portable tray stand has a compact construction to allow users to carry it easily. Whether you are at home, in the office, or relaxing near a beach, you can use it effortlessly. It has 8-angle options that lock in place to allow for hands-free use.
Designed with a dual-bolster pillow, the Mini Reader adjustable laptop stand provides extra comfort and support when working on the bed. You can use it while working with the laptop, eating, or even drawing. It's perfect for both kids and adults.
Also, it has an easy-to-clean surface, so you don't have to worry when using it as a kid's table. After you are done, it folds flat for convenient storage.
Best Adjustable Laptop Stand for Gaming
Gaming requires a stable worktop. If you plan to game with a laptop, it's essential to find a suitable stand that provides the much-needed support.
ThatFromHome's Laptop Stand With LCD Screen
Designed with gaming needs in mind, ThatFromHome's laptop stand is a convenient surface for intensive gamers. Its heat dissipation system is well-advanced; its fan circulates air seamlessly to enable fast cooling while staying entirely noise-free.
The LCD screen is what you need for your gaming setup. It combines a colorful display with large mesh ventilation for better airflow. The thick, durable material construction ensures it can hold up for long even after severe usage.
The Deluxe knob switch allows you to the fan's speed depending on the amount of heat generated. More practicability is added by the flipping baffle that ensures your laptop is in position all the time.
PCCooler Adjustable Laptop Stand
This laptop stand was designed specifically for gaming. It features 6 adjustable settings for different game environments. Alongside the adjustable settings is a strikingly beautiful surface with red LED lights that create the ideal gaming environment.
To ensure your laptop doesn't suffer heating problems, the PCCooler Adjustable Laptop Stand has a honeycomb mesh on the surface. This mesh allows for excellent airflow to dissipate heat away.
The honeycomb surface is hollowed out to quickly remove heat from the surface, while the 5-ultra-quiet fans provide aerodynamic airflow to maximize cooling. It can connect the laptop to a USB, keyboard, mouse, headsets, and more.
Jelly Comb RGB Laptop Stand
Gaming can be fun with this laptop stand. It combines various features that contribute to a great experience. It's well lit, thanks to the 6-RGB light modes.
First, the Jelly Comb S05A 9-settings adjustable stand allows gamers to set their preferred heights. These heights relieve back pain and stiffness that tends to accumulate from uncomfortable positioning. There are added adjustable phone holders on both sides where you can place your device while charging.
Laptops ranging between 10"-17" fit perfectly on this stand. It can hold up to 10kgs and can bear books, iPad, pianos, etc. The base rails can act as external keyboard holders to keep the desktop neat and tidy.
Other handy features include a skid-proof design and a hollow surface design for maximum heat dissipation.
AICHESON S035 5-Fan Laptop Stand
If you can't game effortlessly without having to worry about excess heat, this laptop stand comes in handy. The AICHESON 035 was designed for laptop gamers who want both comfort and a proper cooling mechanism.
This stand has a meshed net to allow proper airflow in and out of the laptop. This meshed net allows a better heat sink while the 5 fans blow away hot air and serve the laptop with cooler air.
Using the 4 adjustable settings, you can find the ultimate position to have a maximum vision before you can kickstart gaming.
The Bottom Line
An adjustable laptop stand serves numerous functions. It benefits the user with better, comfortable positioning and good vision. With these laptop stands, you will surely enjoy better performance with your laptop. All that you need is to ensure you choose a laptop stand well-suited for your needs.
At ThatFromHome, we provide a variety of equipment to improve your overall experience. Check our store for more tools to enhance your productivity at home. You can also read our blog for more tips like these!
Disclaimer: Hey reader! Some of the links in this post are affiliate links. This means that if you make a purchase using any of these links, we'll earn a small commission at no extra cost to you.